Genre: Rock, Punk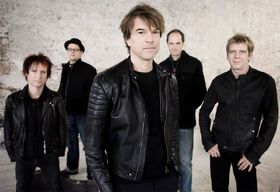 Punk Rock, Alternative Rock, Pop Punk, Pop Rock, Hard Rock, Heavy Metal, Melodic Hardcore, Post-Hardcore
Discography:
Opel-Gang (1983)
Unter falscher Flagge (1984)
Damenwahl (1986)
Never Mind the Hosen, Here's Die Roten Rosen (1987)
Ein kleines bisschen Horrorschau (1988)
Auf dem Kreuzzug ins Glück (1990)
Learning English Lesson 1 (1991)
Kauf MICH! (1993)
Opium fürs Volk (1996)
Wir warten auf's Christkind... (1998)
Unsterblich (1999)
Auswärtsspiel (2002)
Zurück zum Glück (2004)
In aller Stille (2008)
Ballast der Republik (2012)
Ad blocker interference detected!
Wikia is a free-to-use site that makes money from advertising. We have a modified experience for viewers using ad blockers

Wikia is not accessible if you've made further modifications. Remove the custom ad blocker rule(s) and the page will load as expected.