Genre: Metal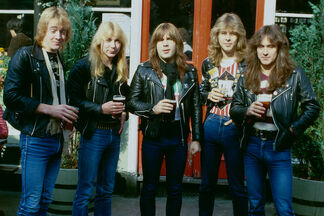 Heavy Metal, NWOBHM, Glam Metal, Hard Rock, Speed Metal, Power Metal, Shock Rock
Discography:
Iron Maiden (1980)
Killers (1981)
The Number of the Beast (1982)
Piece of Mind (1983)
Powerslave (1984)
Somewhere In Time (1986)
Seventh Son of a Seventh Son (1988)
No Prayer for the Dying (1990)
Fear of the Dark (1992)
The X Factor (1995)
Virtual XI (1998)
Brave New World (2000)
Dance of Death (2003)
A Matter of Life and Death (2006)
The Final Frontier (2010)
Ad blocker interference detected!
Wikia is a free-to-use site that makes money from advertising. We have a modified experience for viewers using ad blockers

Wikia is not accessible if you've made further modifications. Remove the custom ad blocker rule(s) and the page will load as expected.