Genre: Rock, Metal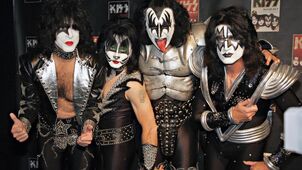 Hard Rock, Glam Rock, Pop Rock, Glam Metal, Heavy Metal, Disco, Shock Rock
Discography:
Kiss (1974)
Hotter Than Hell (1974)
Dressed to Kill (1975)
Destroyer (1976)
Rock and Roll Over (1976)
Love Gun (1977)
Gene Simmons (1978)
Ace Frehley (1978)
Peter Criss (1978)
Paul Stanley (1978)
Dynasty (1979)
Unmasked (1980)
Music from "The Elder" (1981)
Creatures of the Night (1982)
Lick It Up (1983)
Animalize (1984)
Asylum (1985)
Crazy Nights (1987)
Hot in the Shade (1989)
Revenge (1992)
Carnival of Souls: The Final Sessions (1997)
Psycho Circus (1998)
Sonic Boom (2009)
Monster (2012)
Ad blocker interference detected!
Wikia is a free-to-use site that makes money from advertising. We have a modified experience for viewers using ad blockers

Wikia is not accessible if you've made further modifications. Remove the custom ad blocker rule(s) and the page will load as expected.