Genre: Rock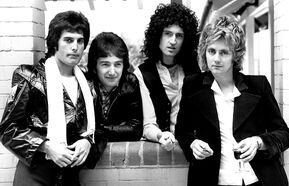 Hard Rock, Glam Rock, Heavy Metal, Art Rock, Pop Rock, Disco, Blues Rock, Psychedelic Rock
Discography:
Queen (1973)
Queen II (1974)
Sheer Heart Attack (1974)
A Night at the Opera (1975)
A Day at the Races (1976)
News of the World (1977)
Jazz (1978)
The Game (1980)
Flash Gordon (1980) – soundtrack
Hot Space (1982)
The Works (1984)
A Kind of Magic (1986)
The Miracle (1989)
Innuendo (1991)
Made in Heaven (1995)
Ad blocker interference detected!
Wikia is a free-to-use site that makes money from advertising. We have a modified experience for viewers using ad blockers

Wikia is not accessible if you've made further modifications. Remove the custom ad blocker rule(s) and the page will load as expected.