Genre: Metal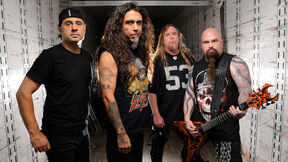 Thrash Metal, Alternative Metal, Speed Metal, Heavy Metal, Shock Rock
Discography:
Show No Mercy (1983)
Hell Awaits (1985)
Reign in Blood (1986)
South of Heaven (1988)
Seasons in the Abyss (1990)
Divine Intervention (1994)
Undisputed Attitude (1996)
Diabolus in Musica (1998)
God Hates Us All (2001)
Christ Illusion (2006)
World Painted Blood (2009)
Repentless (2015)
Ad blocker interference detected!
Wikia is a free-to-use site that makes money from advertising. We have a modified experience for viewers using ad blockers

Wikia is not accessible if you've made further modifications. Remove the custom ad blocker rule(s) and the page will load as expected.