Genre: Punk, Metal, Hardcore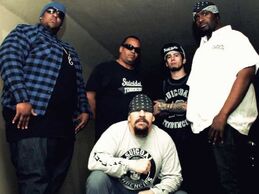 Hardcore Punk, Crossover Thrash, Thrash Metal, Punk Rock, Skate Punk, Rapcore, Funk Metal, Alternative Metal
Discography:
Suicidal Tendencies (1983)
Join the Army (1987)
How Will I Laugh Tomorrow When I Can't Even Smile Today (1988)
Controlled by Hatred/Feel Like Shit...Déjà Vu (1989)
Lights...Camera...Revolution! (1990)
The Art of Rebellion (1992)
Still Cyco After All These Years (1993)
Suicidal for Life (1994)
Freedumb (1999)
Free Your Soul and Save My Mind (2000)
The Suicidal Family (2010)
13 (2013)
Ad blocker interference detected!
Wikia is a free-to-use site that makes money from advertising. We have a modified experience for viewers using ad blockers

Wikia is not accessible if you've made further modifications. Remove the custom ad blocker rule(s) and the page will load as expected.