Genre: Electronic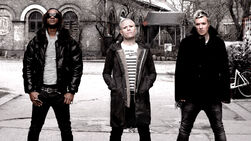 Electronica, Experimental, Electronic Rock, Jungle, Rave, Techno, Industrial, Breakbeat, Breakbeat Hardcore, Alternative Dance, Synthpunk, Synthpop, Alternative Rock, Big Beat, Nu-Rave
Discography:
Experience (1992)
Music for the Jilted Generation (1994)
The Fat of the Land (1997)
Always Outnumbered, Never Outgunned (2004)
Invaders Must Die (2009)
The Day Is My Enemy (2015)
Ad blocker interference detected!
Wikia is a free-to-use site that makes money from advertising. We have a modified experience for viewers using ad blockers

Wikia is not accessible if you've made further modifications. Remove the custom ad blocker rule(s) and the page will load as expected.